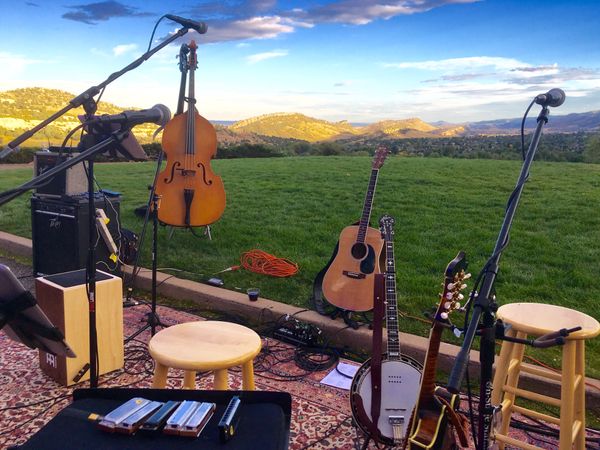 David Katz - (Lead vocals, Guitar, Mandolin)
Born and raised in Jacksonville, Florida, David has Southern Rock in his blood - Lynyrd Skynyrd, Allman Brothers, and the like. So everything comes out with a little bit of twang. Little did he know when he moved out West he would team up and find such fun musicians and friends. The Tattered Covers was great fun for years, but he is very excited to be playing in the new Home Brood setup. While relying on his Diane and Marcus for their keener ears and other methods of life support, David feels The Home Brood sound is a terrific new direction, pleasantly therapeutic, and likely to grow even better over time.
Diane White - (Vocals, Saxophone)
Di may be the newest member to The Home Brood Band (THBB) but certainly not new to music or to husband (and lead vocalist) David Katz ;-) Born and raised a Kansas farm girl, Diane is grateful for her country, blues and jazz roots, old-fashioned upbringing and ability to weave amazing harmonies, stemming from her Mennonite church roots. Diane began performing jazz, blues, and classical music on the saxophone and other wind instruments. Today she focuses on a career as a Director for a national environmental firm and at night finds satisfaction weaving rich harmonies into THBB's big vocal sounds. Her energetic spunk and humor certainly keep the guys on their toes! We love having Di as an integral part of the band and know you'll love seeing her perform too! 
Marcus McCloud - (Vocals, Harmonica, Guitar)
With a Georgia and Oklahoma upbringing and a love for harmony, it's no surprise that Marcus has managed to convince the band to include quite a few country tunes in the band's set lists. Learned the harp while working on an offshore drilling rig off the coast of Louisiana. Never dreamed that this little "hobby" would turn into an outright addiction. Band would probably let him sing more solos if he could remember the lyrics. Would like to thank his little brother Billy for giving him such a wonderful guitar ... only a brother would part with his Guild. 
Roger Hughes - (Guitar, Mandolin, Banjo, Vocals)